Last Saturday my son, Chaz, called from the lumberyard where he works to let me know there were lots of free pallets for the taking. So me and Robert and James hooked up the trailer and headed to Moravia. Pallets make great bonfire wood. We want to have a bonfire at the 3rd of July afternoon and evening get-together we will be having at our place. It's not a big event—just a few friends and their children for food, fellowship, and fun, of which the bonfire is one element. We did this last year. The kids had a great time and we adults did too. Afterwards, we all agreed that we should do it again this year. So here's a few photos I took of the pallet pile we made...
This picture shows James about to toss the last pallet up onto the stack. I'm telling him to hold the pose until I get the camera ready. He has been holding that thing over his head like that for a long time.
Of course, after you make a tall pile of pallets, you must climb it. Robert was the first to the top. James followed and finding it was not very stable up there, he grabbed ahold of his brother's leg for support.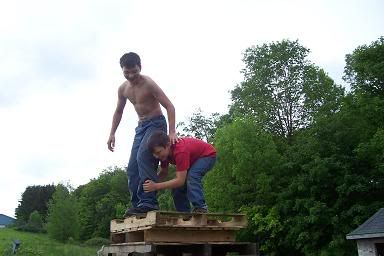 Wow, it sure is a long way up there!