The picture above shows my wife Marlene's handcrafted soaps on display at the New Hope Mills store in Auburn, N.Y. You'll notice that the bars of soap are arranged neatly on special little wooden soap display stands. I designed and made those stands for Marlene earlier this year because she needed a simple but attractive display that would be easy for people at the store to restock as needed.
I was inspired to make the displays after seeing other handcrafted soaps so poorly presented at other stores. It's a shame to put all that care and work into making soap and have it languish on the shelf because people don't notice it or don't give it any serious consideration. A proper display invites shoppers to take a closer look and learn more. These display holders do exactly that. They have worked out so well that I've decided to affix the coveted
Whizbang
name to them. Better yet, I've also put together a plansheet telling other home crafters of soap how to make their own Whizbang soap displays.
Here are some more pictures of the Whizbang soap display stands:
close up showing front of Gentleman Farmer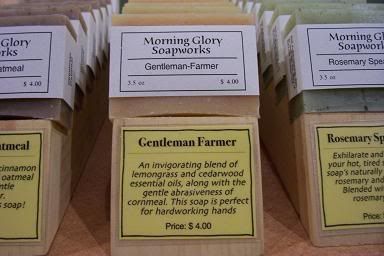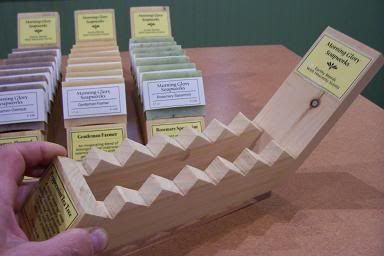 Whizbang soap display stands are a nifty little solution to the problem of easily organizing and presenting your handcrafted soaps.
The pictures above are all some people will need to make their own display stands. But if you would like an actual sample stand that you (or a woodworker you know) can utilize as a pattern to make your own stands, you can purchase one from me.
To order a sample display stand, go to the
Whizbang Books Online Catalog
~~~~~~~
Please excuse me now while I take care of some business. I think I shall post a few soapmaker search words:
Soap making, soapmaking, handmade soap, hand made soap, artisan soap, crafted soap, hand crafted soap, home soap business, selling soap, selling more soap, soapmaking supplies, sell more soap, marketing soap, sell soap, soap display, soap tools, soap supplier, wooden soap holder, soap holder plans, soap display plans, learn soap making, increase soap sales, learn soapmaking, professional soap maker, selling soap to stores, Whizbang soap display, saopmaking , soap, soap and more soap!