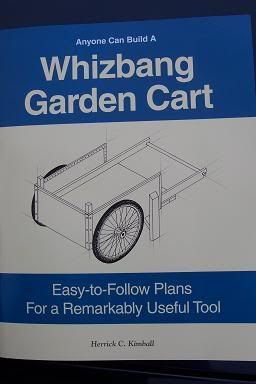 I like writing and illustrating and producing my own books. But the best part of writing a book is getting it done!
The above book,
Anyone Can Build A Whizbang Garden Cart
is the culmination of three years of garden cart development and real-world testing on my homestead, followed by several months of focused book-production work. The book is a simple, complete, step-by-step, how-to manual. It has 45 pages and 75 illustrations.
Many of you have purchased a pre-publication copy of this book. I want you to know that I will be mailing your books to you tomorrow. Thank you to everyone! I appreciate your trust in me and your interest in this project. And I hope you will be inspired to build your own Whizbang Garden Carts!
If you have not been over to the
Whizbang Garden Cart Blog
lately, I have posted several new stories:
Twelve Turkeys in a Whizbang Garden Cart
Add Plywood For A Great Outdoor Work Surface
How Long Does It Take To Build A Whizbang Garden Cart?
How Much Does It Cost To Build A Whizbang Cart?
Here Are The Cart's Dimensions
All About The Whizbang Cart Tires
==========
If you would like to learn more about the Whizbang Garden Cart and purchase a copy of the book,
Anyone Can Build A Whizbang Garden Cart
,
CLICK HERE
.
==========
P.S. I hope to get back to blogging
here
once again very soon.......