This year is the 400th anniversary of the founding of Jamestown. A lot of people have traveled to Jamestown to visit and celebrate. I think that's great. I can't make it but I am celebrating in my own special way. I'm growing tobacco: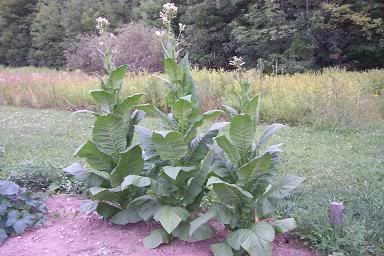 I've never grown tobacco before. I started the plants from seeds the size of dust specks. The plants are now over 5 feet and are starting to blossom.
I don't smoke and I don't intend to start. I don't chew tobacco and I don't intend to start. But those tobacco leaves smell so good to me!
I plan to dry some of the big leaves and save them to make a natural insecticide for my garden.