It has been exactly one year since I wrote a blog essay titled,
Twelve Years Old Today
. Now my youngest son, James, has became a teenager, which means that, as of today, Marlene and I are the parents of three teenage boys. Please pray for us.
James woke up this morning and came downstairs to find his birthday present on the kitchen table. Marlene and I gave him one present. It was what he was hoping for… A
Henry Lever Action .22 rifle
.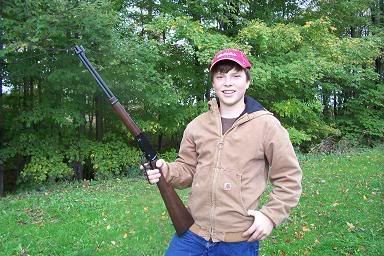 We've been plinking cans and little apples on top of cans in the back yard today. The gun has a smooth action and shoots straight. The walnut stock is beautiful. If taken care of, the rifle should last a couple lifetimes. James will be able to hand it down to a son or grandson, or even a daughter or granddaughter.
In my book,
Writings of a Deliberate Agrarian
, I have a chapter titled
Annie's Got A Raccoon!
. I tell the story of James, at 11-years-old, shooting a rabid coon in the creek behind our house, using his brother's 20-gauge shotgun. This child has outdoor adventures and exploits like I never imagined at his age. That's because I lived in a suburban housing project. My father didn't hunt. He has never owned a gun.
The childhood my son experiences within the rural setting where we live allows him to grow up doing many of the same things that boys of our agrarian past did. Fishing, trapping, rabbit hunting, squirrel hunting, woodchuck hunting, exploring in the surrounding countryside, camping out, cooking meals over a campfire, building forts, and so forth. This is a big reason why Marlene and I choose to raise our boys in this setting.
When you restrict a boy to an urban or suburban neighborhood, without wide spaces and wild adventures for him to explore and experience on a daily basis, it is akin to cruelty. That is my opinion. Furthermore, I think the cruelty is compounded when you send the boy to a government school where he has to sit still for long periods while being slowly and surely institutionalized, socialized, and feminized by the educational machine.
It makes me think of factory-raised chickens, confined to cages, never even seeing the light of day. Or industrially-raised cows in enormous dairy "farms" that never get to graze in a pasture. I don't believe God made animals to be confined in such horrible places. And boys (which can, at times, act a lot like animals) need a natural setting to grow up and mature in too.
There are people who fear the idea of giving a 13-year-old boy his own rifle. For them I offer the following quotation, which is from the book
Wild at Heart
by John Eldredge (it is also found on page 85 of my book):

How many parents have tried in vain to prevent little Timmy from playing with guns? Give it up. If you do not supply a boy with weapons, he will make them from whatever materials are at hand. My boys chew their graham crackers into the shape of hand guns at the breakfast table. Every stick or fallen branch is a spear, or better, a bazooka.

Despite what many modern educators would say, this is not a psychological disturbance brought on by violent television or chemical imbalance. Aggression is part of the masculine design; [men] are hardwired for it. If we believe that man is made in the image of God, them we would do well to remember that The LORD is a warrior; the LORD is his name(Exodus 15:3)
Happy Birthday, James!
Don't forget.....yer Pa loves ya!