In
my previous blog entry
I wrote about family traditions. In this essay I'd like to introduce you to a very simple, tradition I started in my family 14 years ago. It is an activity that costs virtually nothing, takes less than an hour to do, and is eagerly looked forward to by the whole family. This next picture will introduce you to the idea: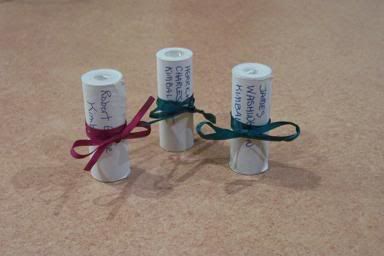 The photo above shows three small scrolls. Each scroll is an 8ft length of adding machine paper held together with a piece of cloth ribbon. There is a scroll for each of my sons. The scrolls are kept safe in a small drawer under a shelf up out of the way. Once a year, around Christmas time, the scrolls are taken from the drawer, opened up, and stretched out across the kitchen table. The whole family gathers around to study and compare special markings that were made on the scrolls in previous years. Then it's time for our little family tradition.... the official yearly act of measuring the height of each boy.
My sons are currently 13, 16, and 19 years old. They know the routine. Stand up straight against the wall, feet flat on the ground (no cheating), eyes straight ahead, chin up, while I hold a small framing square against the wall above them and move it down until it just touches the top of their head. The boy then moves out from under the square, and with me still holding the square in place, we use a carpenter's tape measure to find out the exact distance from the floor to the blade of the square.
The measurement is then officially recorded by me on each boy's scroll. Here's a picture of how it looks:
There is a base line on one end of each scroll. From that line we have marked each boy's length at birth. Than, starting in 1994, we measured and recorded each boy's height from the base line. Here's another view. This is from my oldest son, Chaz's scroll.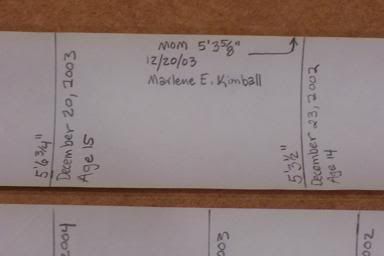 You can see that when Chaz was 14 years old, he was only 1/8" shorter than his mother. The next year he grew 3-1/4". Further up the scroll, in 2005, he measured 5ft 9-3/4". That put him at 3/16" higher than me (my height is recorded on each scroll too). But that's as tall as Chaz has gotten. His height has not changed in the past two years.
If we were to compare scrolls, we would find out that 16-year-old Robert is now the same height as his older brother was at 17 years old (which is the same height he has remained). So if Robert grows any more he will be the tallest in the family.
But my youngest son, James, who has always been the shortest one in the family, grew 4-3/8" last year. It turns out he is still the shortest but he is actually quite a bit taller at his age than either of his older brothers were at 13 years old. And he is about to surpass his mother in height.
That's the fun of comparing scrolls. Then we carfully roll them up and put them away for another year. I like to think that my boys will continue this little tradition in their own families one day.
If you have a young family, I hope this story will inspire you to make each of your children a scroll of their own and to establish a similar tradition. It's just a little thing, but it's a lot of fun.