Scott in his later years.
I have been writing about Scott and Helen Nearing, authors of the 1954 classic,
Living The Good Life
.
Though the Nearings and I part company when it comes to fundamental religious beliefs, we share common understandings about the foolishness, failures, and dangers of our modern, industrialized culture.
One of those areas of understanding revolves around the subject of food. The Nearings believed that most modern foods were unhealthy and unnecessary for living the "good" life. In fact, to the Nearings, living the good life meant escaping the modern bondage to the high-priced, chemical-laden, and adulterated foods of the industrial cornucopia.
Helen and Scott embarked upon a pre-industrial diet consisting of fresh fruits and vegetables, most of which were grown in their own garden. They also ate whole grains, nuts, and beans. For sweeters, they used honey, molasses, and maple syrup—never white sugar. They drank water and homemade herbal teas—never alcoholic, carbonated, or caffeinated beverages.
I should also point out that the Nearings were vegetarians, which isn't necessarily pre-industrial. But I think it is safe to say that most pre and non-industrialized cultures did not and do not eat a lot of meat. Personally, I like meat, and have no problem eating it. But I am not a big meat eater and I now limit my intake primarily to meat I've grown and processed myself (chicken and turkey) and meat that has been raised by people I know and trust.
During their 20-year odyssey in Vermont's Green Mountains, the Nearings report that they had no refrigerator or freezer. They relied on a root cellar to keep produce through the cold months. They also had an unheated greenhouse to grow some greens through the winter. They canned some foods (applesauce in particular). Their "Good Life" book goes into more specific details about their diet. The thing I want to point out is that they ate basic, unprocessed, and usually organic, food.
It was this diet, along with the steady exercise of homestead work, and stress-free living, that is the most likely reason why Helen and Scott enjoyed such long, productive, and disease-free lives. I find that the most inspiring aspect of the Nearing's example. And, as I recently reread their book, I felt convicted to give more attention to eating more wholesome foods.
Compared to many, my diet is already pretty basic and healthy. As already noted, my intake of meat is under control. I do not eat a lot of processed or sugar-laden food. I haven't drank a whole glass of carbonated beverage in years (a sip is enough to remind me why). I've never been an alcohol drinker (though I have been known to indulge in a rare glass of hard cider). I can do without coffee. I can pass up doughnuts and pastries. Candy does not beckon me (I do, however, have a weakness for peanut butter cups). Nevertheless, I know I can do better about eating foods that are better for me. Thus, I find myself drawn to the whole idea of a Spartan diet.
And so it was that I recently came to read Helen Nearing's 1980 book Simple Food For The Good Life. I checked it out from the library because I'm trying to cut down on book buying. But I might go buy a copy because I like the book.
Helen's book is something like a cook book, but she is the first to admit that she didn't like to cook. She felt she had better things to do than slave over the stove for hours baking and making meals that would get eaten in ten minutes. My wife, Marlene, can relate to that. So the "recipes" in the book are more down-to-earth and simple than probably any other recipe book you've ever seen.
My primary objective in getting the book was to find out about Scott Nearing's Horse Chow. I had read somewhere that "horse chow" was a favorite food of the Nearings. I wanted to know more.
Well, horse chow is the second recipe in the book (right after popcorn, which the Nearingss purchased wholesale in 50-pound bags). Here is what the book says:
HORSE CHOW





In the early 1930s, before health foods and granola became household words, I made up a dish we called Horse Chow. At that time raw oats were not being eaten by humans. This is the simplest granola of all and perhaps one of the earliest. It was dreamed up in the Austrian Tyrol, where we holed up one winter in a village far from supplies and with a very slim larder of hit-or-miss articles, but with great appetites.





4 cups rolled oats (old-fashioned, not the quick-cook kind)




1/2 cup raisins




Juice of 1 lemon




Dash of sea salt




Olive oil or vegetable oil to moisten





Mix all together. We eat it in wooden bowls with wooden spoons.
After reading that recipe for Horse Chow I decided to give it a try. Cooking is not one of my strengths, but no cooking is needed. Just mixing. I know how to mix stuff. I have mixed concrete in a wheelbarrow many times.
When I made my own Horse Chow, I didn't follow the Nearing's directions exactly because I'm a typical man in that regard. I now realize (after typing out the recipe above) that I left out the sea salt. It still mixed together just fine. Here is a picture of the ingredients: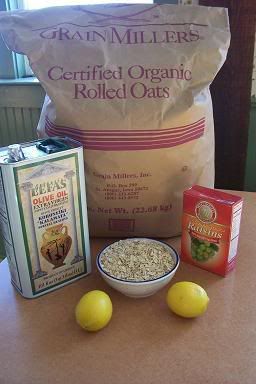 I made my horse chow by putting some raw rolled oats in a bowl. Then I squeezed in 1/2 of a lemon, and mixed. Then I poured in some good-quality olive oil, and mixed. Then I added the raisins, and mixed. Here's a close-up picture of the finished chow: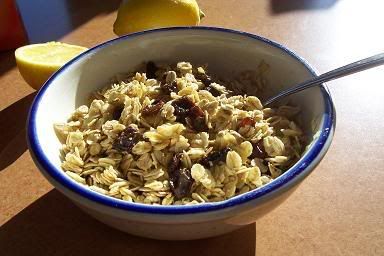 You're probably wondering how it tasted. Well, it needed salt. Just kidding. The Horse Chow was different. It was chewy. But it wasn't bad. The sweet raisins and the tart lemon made for a nice contrast of flavor. One thing is for sure—Horse Chow fills you up!
I have been eating quite a bit of Horse Chow over the past 10 days. One Saturday I ate nothing but Horse Chow for the whole day. I've mixed Horse Chow at work for lunch. I've found that I like it better with some apple pieces. It's also good mixed with yogurt.
You're probably also wondering how I feel after eating so much of this raw chow. Well, I feel pretty good. I think I've even lost some weight since I've started eating horse chow. I also run faster and jump higher.
In the past, when I was hungry, I'd snack on bread or crackers (carbs) with something on them (peanut butter, jam, cheese, sardines—you name it). But now I mix up some horse chow. It's quick and easy.
Did you notice that BIG bag of rolled oats in the above picture? I'll be eating horse chow for a long time to come. If you stop by for a visit some day, I may feed you horse chow. That's one of the things the Nearings fed their many visitors.
In my next essays (a twelve-part series!) I will tell you all about recipe number four in Helen's cook book....."Scott's Emulsion". It's a two-ingredient recipe. And "Scott's Emulsion" is really tasty when mixed with boiled wheat berries. ;-)
==================================
CLICK HERE to go to Part 1 of this "Horse Chow" series.