At 13 and 17 years of age, my sons James and Robert are responsible and capable with firearms, and they are becoming good hunters. This delights me to no end because I see hunting as a manly pursuit.
My hope is that these boys will grow up to become capable, resourceful, manly men. More so than I have been. I think it is happening.
I have chronicled the
woodchuck
,
rabbit
,
deer
, and
goose-hunting
exploits of my sons on this blog in the past. Today I am pleased to tell you of another family first: a first turkey.
Robert and James were up before sunrise last Saturday morning. They made themselves scrambled eggs for breakfast, donned their cammo outfits, and were out the door when our friend, George, pulled in the driveway to pick them up. I was sound asleep. :-)
George is a Christian brother, a laboratory researcher by profession, and an avid lifelong hunter. He has three sons of his own, but only one is interested in hunting, and he is busy with college studies. So George graciously invited Robert and James to go turkey hunting with him.
It was not the first time either boy had been turkey hunting but it was the first time they actually came home with one.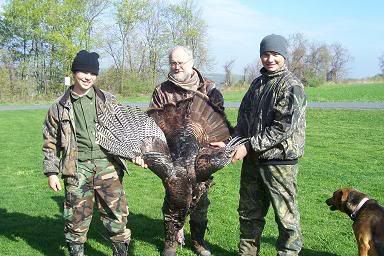 That's James, George, and Robert with a nice Tom. The dog is Annie. She wants to drag that turkey off and bury it somewhere. Robert shot the big gobbler. It's his first turkey.
Here's another picture of Robert with his turkey.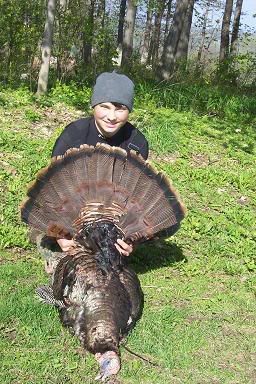 The beard is 12" long. The spurs are 1-3/8". George says it is a once-in-a-lifetime turkey.
Robert and I skinned the bird and it's now in the freezer. We are looking forward to eating a wild turkey. That'll be another first.