My son James has been helping a nearby farmer install drain tile in his field. Thus far, he has worked a couple of full days at the task. Marlene called me at work on the second day. She was a little concerned. "Do you think it's okay for him to be working like that?"
"What do you mean," I asked.
"Well he's only 13 years old. He's not doing his homeschooling."
I reassured my wife that it was okay. James was learning things that typical 13-year-old boys in government school do not learn—like how to put in an honest day's work, in a ditch, with a shovel. His teacher was a farmer, a man who knows what he's doing. And there was another man helping. Can the government school system provide two teachers for one student?
James was learning about how a laser level works. But more than just learning how the tool works, he was helping to
use
the tool in a real-life work situation. He was learning about geology, agronomy, physics, and the natural world. He was interacting with men, and doing a man's work—productive work—work that needed to be done.
Marlene felt the same way. She just wanted me to verify what is perfectly obvious—that being able to help with such work is good, and beneficial, and a blessing. At least to us this is obvious.
But then Marlene mentioned to a family relative that James was helping a farmer with his ditching. The relative expressed concerns that the state Labor Department might not be pleased with a 13-year-old boy doing such work.
The state labor department? Who are they? What do they know about raising children? What business is this of theirs? Does this government agency love my son, as his mother and I do? Have these bureaucrats been entrusted by God Almighty with the responsibility of raising my boy, as I have? The idea that some state agency would find wrong in this matter and possibly think they would be doing the right thing by interfering is enough to make me angry.
There was a time, not so long ago, when it was common for boys to work with men on farms, doing the hard tasks of farming. In fact, government schools originally were in session only when there was no planting, growing, and harvesting work to be done on the farm. Children were once important economic assets to their families and their communities. Of course, the modern mind looks back at that and sees children being exploited. And therein we have yet another example of how warped modern thinking is.
I suppose the state Labor Department would rather that 13-year-old boys didn't work at all. But if they did work, it should be easier, safer, and less strenuous, like emptying the dishwasher, or taking out the garbage, or... walking the dog. Oh yeah. Now
that's
the kind of work that builds character, confidence, self-esteem , and self-reliance in a young boy! And then when they're all tuckered out with that "work" they can stare into a computer screen for hours while playing violent, aggressive video games.
We live in a culture that doesn't want young boys to grow up and become men (and many of them never do become men). I reject that kind of social engineering. Young boys have increasing testosterone levels, they are getting physically strong, and they have mind-boggling energy levels. They need productive work to do. Organized sports is not productive work and it is a poor substitute. Boys need to begin to integrate into the world of work. There is no better way to do this than on a farm. I don't have a farm but, thankfully, I have neighbors who are farmers.
Picking rocks, doing chores on a dairy farm, bringing in the hay in the summer, loading hay trucks out of the barn throughout the year, and helping to lay drainage tile in a ditch with a shovel are all good jobs my sons have been able to help several neighboring farmers with.
My son
wants
to do this work. He is an eager worker because he
enjoys
helping with significant work. Besides that, he wants to earn enough money to buy himself a newer bicycle. As his father, I couldn't be more pleased, and he knows it.
So, to the people from the Labor Department, I say: Relax. All of this is nothing more than a homeschool field trip.
========================
One afternoon, when I got home from work, and I learned James was working in the field, I headed out to see for myself. I found him in a ditch, up to his chest. A backhoe was digging away about 30 feet from him. James and another man were laying plastic drain pipe in the bottom of the ditch and shoveling dirt over it to hold it in place. I took several pictures with the intention of sharing them with you here.
But with this talk of the state Labor Department I've decided it would not be wise to post the pictures. I don't want to provide any incriminating evidence that we might be committing a "crime."
But later on, as I was in my house I heard James coming down the road on his brother's 4-wheeler. I looked out the window and saw him, with his shovel tied on the back, pull into the driveway, and I grabbed my camera. I met him at the door, shook his hand to congratulate him for doing a good day's work, and snapped this picture (he is tolerating my enthusiasm).
We can't have muddy boots in the house, so he took them off outside, and I saw another photo opportunity: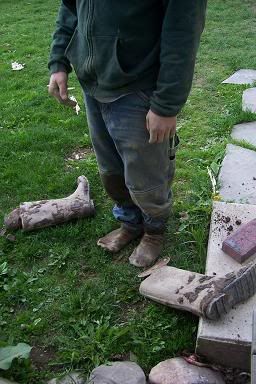 See those socks? Well they were white when he put them on that morning. His boots were full of mud. I love to see my sons soiled from doing the hard work of farming. Such a sight brings joy to this father's heart.
But if you're from the state Labor Department I say: "Gee whiz, look at that mud. A boy sure can get dirty catching pollywogs in the creek."