It has been a warm, sunny August weekend with low humidity and a pleasant breeze. The weather just doesn't get much better than that. We have been very busy around our homestead this weekend. Here are a few photos from this morning and yesterday.
==========
Potatoes to the left of me, beans to the right, grape vines behind, the rising morning sun ahead, and beautiful blue sky above, here I am tilling up the earth where my garlic was harvested two weeks ago. The straw mulch and some weeds were removed and tossed into the chicken yard where they will eventually be transformed into compost. I am tilling one pass and will broadcast buckwheat seed. The buckwheat comes up fast and helps to choke out weeds. Before it goes to seed, I will till the buckwheat into the ground as a "green manure" and then I'll probably plant rye seed to hold the soil over the winter. Then, in the spring, it will be tilled in for more green manure. This photo was taken by my son, Robert.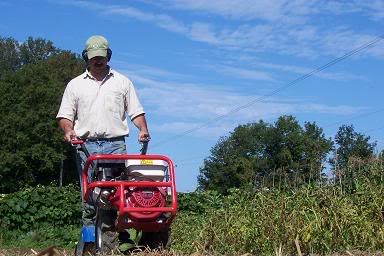 Here's a shot into the chicken yard. A "chicken door" into the henhouse is in front of the hen. The vine growing behind is a winter squash that came up on its own in the compost pile behind the fence. That compost pile will be what I use next season.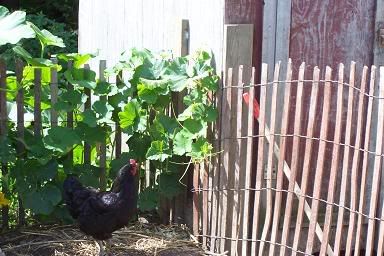 Here's what those Mangle Beet seeds from David Taylor and Heirloom Acres Seeds have produced. This beet is about 2-inches in diameter. It has a way to go before it is 15 to 20 pounds.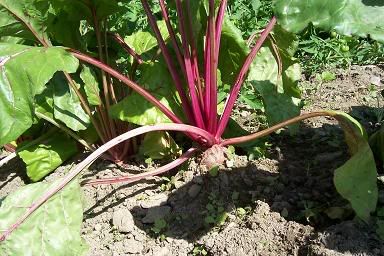 Our onions are doing well. These are Copra onions. They store well through the winter. I bought sets from Johnnys. They looled pitiful when I planted them but there comes a time when they just take off and really grow.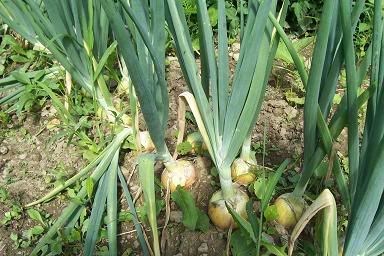 The green beans are perfectly ripe, tender and tasty raw from the plant. Marlene will be freezing lots this week. She hopes to make dilly beans (pickled) this week too.
This is my favorite photo of the bunch! I'm so pleased and grateful for the crop of grapes God has blessed us with this year. These are Concord grapes. They will turn purple and, when the air turns cold, they will get sweet and juicy. We will use them to make canned grape juice. Sooooo good!