I've been pushing a lawnmower most of my life. Even now, with three healthy and capable boys, who do their share of mowing, I'm still inclined to push the mower myself. Marlene will ask me why I'm mowing when we have three boys around. It's really very simple.... I need the work. My job as a supervisor in a factory provides an income but no physical work to do. Some days I kind of like that but I don't feel right about it.
Here is a picture of my lawnmower. Isn't she a beauty!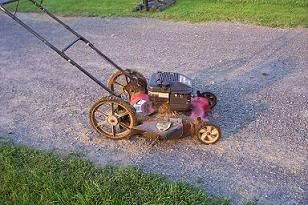 My kids would like me to buy a John Deere riding mower. Actually, any riding lawnmower would suffice. The key word here is
riding
. It's not gonna happen. I've never owned a riding mower. I refuse to buy one, at least any time soon. If I ever get old and feeble, maybe then I'll buy one. But as long as I'm healthy ( or I have healthy boys around), we're going to use a basic, no frills, push lawnmower just like the one in the picture.
Even that basic push mower is something of a compromise for me. I hate the noise it makes and that it uses gas and that it needs parts and maintenance. Perhaps I should get one of those old rotary push-it-by-hand mowers that don't have an engine. I've thought about it before. But I don't think it would mow the rough field around my garden up on my neighbor Don's property.
In any event, I've been thinking about pushing a mower as opposed to riding a mower since reading the following excerpt from the article
Singing While You Save The Earth
by Dr. J. Matthew Sleeth. I
really
like what Dr. Sleeth has to say here:
=====
"Many of us have built lives in which we have neither rest nor work. Our jobs do not stress our muscles and joints. Our rest is a series of events in which we give our minds over to machines such as televisions, computers, and DVD players. We use machines to chop vegetables, brush teeth, wash our dishes, and record our thoughts. But what is the cost of saving ourselves work?
All laborsaving devices use electricity or gasoline, cost money, produce heat, and make noise. Why do we love them so? What happens when we stop using a manual lawn mower? The non-motorized variety is inexpensive and quiet and uses no fossil fuels. The push mower requires us to exert energy; thus, we obtain exercise and become healthier. By its very nature, the manual mower dictates a reasonably sized lawn. What happens when we decide to save labor and purchase a gas-powered lawn mower? It spews out poisonous fumes, which we inhale. The mower is loud and damages our hearing; mowing our lawn requires little effort, and our muscles atrophy.
Reason, restraint, and the virtue of temperance disappear. Our lawns grow to a size associated with a few megalomaniac old-world monarchs. We laze, sleep, eat, and drink more. Finally, when we gain too much weight, we drive a two-ton vehicle to a health club where we can pay to work against the resistance of a machine. Why not just back up and push our own mower?"
=====
Oh, one more thing.... Just for the record, I want to make it clear that I hate those maniacal, screaming weed whackers. I do not own one and I refuse to buy one. Do you think I'm becoming a curmudgeon?