Last year I wrote a blog titled,
Great Agrarian Vacations
. Today's story goes perfectly with that one....
Genesee Country Village in Mumford, New York is a living history museum that my family visited last weekend. The village is less than two hours from our home. We have been there before but it's the kind of place that you can go to often and enjoy every time.
The village consists of 68 historic buildings with heirloom gardens, period interpreters, and demonstrations. There is also a wildlife art gallery with Remington bronzes and paintings going back to the 16th century. Last weekend, the village was hosting an old time agricultural fair, which was all the more reason for us to be there.
After paying the fee and getting into the village, Marlene and Chaz headed in one direction, while Robert and I headed in another. James, The Independent One, blazed his own trail. That is what he usually does. I had the camera and managed to get a few pictures:
Above is a picture of two impressive oxen. When I went to
school in Vermont
back in 1976-77, the school's farm had a couple of red oxen like these. I drove them with calls of
"Git up."
(get moving),
"Kimme a haw"
(turn right),
"Gee over"
(turn left), and
"Whoa."
(stop). They are intelligent beasts and I've had a special regard for them ever since.
There were lots more animals at the fair, including a poultry barn and the two beautiful creatures in this next photo. They are Indian Runner ducks.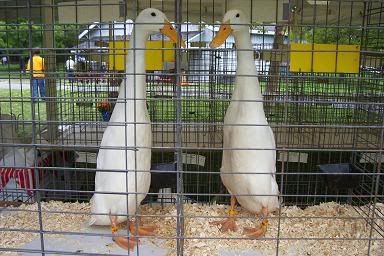 Robert and I took our time as we went from place to place. At 15 years old, he is far more observant, interested, and understanding of things than he was when we were at the village several years ago, and that pleased me. After a couple hours, we ran into Marlene and Chaz at the 1848 octagon home known as
Hyde House
. Then, a little later, we crossed paths with James. He had been to the tinsmith shop, where he made a simple punched-tin Christmas tree ornament, as pictured here:
j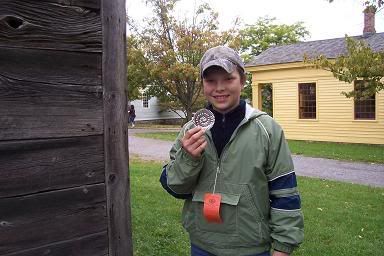 The three of us explored together for awhile. We spent a lot of time watching the cooper as he made a piggin. I've been intrigued by the cooper's craft since I was a little boy and helped my grandfather (the man on the cover of
this book
) repair cedar potato barrels in the basement of his barn. When I was a teenager, I made some small pine-stave canisters.
James and Robert both enjoyed watching the cooper and, again, that pleased me. The blacksmith shop and pottery shop were also particularly great places to spend some time watching, asking questions, and learning.
At one corner of the village square there were old time toys and games for kids (and adults) to play with. Here's a picture of Robert on stilts. I walked with the stilts too but we didn't need a picture of that.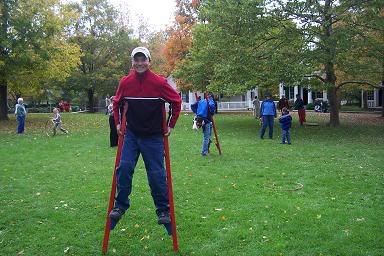 We stayed until the village was about to close. The last thing Robert and I did was visit the art museum. Outside were several bronze sculptures of animals like the bears in this next picture.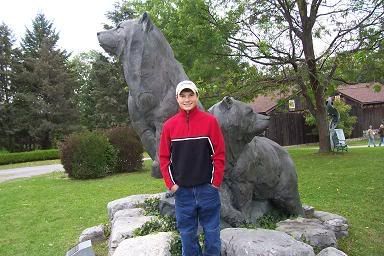 Unfortunately, I was not a good photojournalist that day. I never got a picture of Marlene and Chaz! And there was one other thing I should have taken a picture of. It was a "make do" we saw at the tavern. The interpreter pointed it out to us on a shelf behind the bar. It was a pottery pitcher with a broken handle. Instead of throwing the pitcher away, it was repaired by sending it to the tinsmith. He affixed a tin band around the top and the bottom of the piece and connected a carefully-fashioned handle between the two bands.
People in the 1800's did not throw away things like we do today. They made do by fixing, and not only with pottery but with everything else. It was, to my way of thinking, one of the best things I saw at the village that day and I was so glad that Robert saw it and heard the story. Later, as I commented on the "make do" Robert told me that one of the old wooden folding chairs we bought from the Moravia Grange Hall last summer had been nicely repaired on one leg with a metal plate and that was a "make do."
After we left the village we checked in to a Fairfield Inn and went to dinner at a
Cracker Barrel
. The next day we drove to Marlene's brother and sister in law's home in Lima N.Y. for a nice lunch. The house they live in is an 1840 cobblestone structure that was originally a schoolhouse. We left with several bushels of apples from their trees.
So it was a two-day trip focusing on history, agrarian themes, and family. That made it a short but sweet vacation. Sometimes those are the best kind.
==========
If you are ever around Rochester, New York, treat yourself to a day at the Genesee Country Village and Museum.
Here is the link
.