In our 28 years of marriage, Marlene and I have owned two dogs. The first, Pilgrim, a mixed breed mutt, showed up on our door step as a wee puppy one chilly autumn morning. I devoted a chapter titled "The Life & Death of a Good Dog" to Pilgrim in my book,
Writings of a Deliberate Agrarian
. Those who have read the book will surely not forget that story and how it ends.
Our next dog was (and currently is) Annie, a mongrel we acquired from the pound. Annie has been a wonderful dog but she is now old and getting more feeble all the time. That said, it has been on our mind to get another dog to replace Annie when she is no longer with us.
People who live in the country should not be without a good dog. To my way of thinking, a good dog is a dog that lets you know when something is not right on your property. If a vehicle pulls in the driveway, a good dog will announce the visitor. If a rabid raccoon wanders into the backyard, the dog will let you know. If someone is prowling outside your home in the night, a good dog will give you time to load your gun(s). A good dog will also help to defend you and your family against wild animals. It will also deter such critters from foraging in your garden, or the henhouse.
A good dog will not normally wander beyond the boundaries of your property without you. A good dog will do what you tell it to do, or not to do. A good dog will be tolerant of children and protective of them. A good dog will not bark endlessly for no reason and jump up on cars or people.
As we have considered these things, I decided that our next dog should be a red
Blackmouth Cur
hog dog. We have no wild hogs to hunt here in central New York state but there are woodchucks (a type of ground
hog
and raccoons, which can be formidable opponents. The hog-hunting cur looks to me like a dog's dog through and through. But Marlene had other ideas.
She wanted a beagle. And she didn't just want one beagle. She wanted two beagles—so they could keep each other company. Beagles were a hard thing for me to feature because they are a far cry from a husky cur.
Never
in my dog-owning dreams would I have ever considered owning a beagle, let alone two.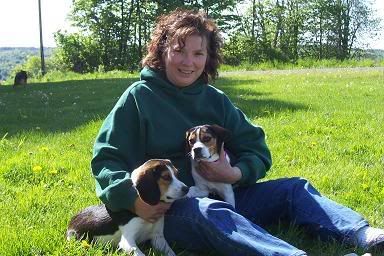 That, my friends, is a picture of Marlene with her two beagles. The one on the left is Lucy and the one on the right is Susan. They are six-month-old purebred beagle sisters. Their names come from the two sisters in C.S. Lewis's Narnia books.
We have had these dogs for a week. I do not know yet if they will be good dogs, but they are showing promise. For example, they have learned the single-word command,
"Git!"
I taught it to them after they nonchalantly wandered into my garden, stepping on fragile seedlings. I taught them by saying
"Git!"
in my dog-commanding voice and immediately throwing some clods of soil in their direction.
Marlene read in a book about beagles that they were developed as hunting dogs for Royalty. I like that. They do have the nose of a hound, and appear to have little fear (except when I yell,
"Git!"
).
[NOTE: This paragraph has been removed to avoid problems with overzealous DEC officials (see comments)]
The beagle book says that if you work a full-time job and keep your beagles penned up all day, they will not be good pets. Beagles need action and attention and space to run. They are country dogs, which means they don't usually do as well in the cloistered environs of suburbia (neither do I) . So our location should be idea for Lucy and Susan.
The biggest concern with getting puppies was how well Annie would accept them. Well, Annie is not pleased with the little additions to our family. The first time we put the three dogs together Lucy and Susan ran right up to Annie. She barred her teeth and barked viciously. The puppies backed off. We scolded Annie. Lucy & Susan returned to mill around the Big Bad Dog, all playful like. Annie stood, towering over them, her teeth showing like an attack dog, growling low, with saliva literally streaming out of her mouth onto the puppies.
It occurred to me that six-month-old beagle pups are about the size of a big woodchuck (Lucy is 16 pounds and Susan is 14 pounds). Annie has killed a lit of woodchucks in her day.
But after a week, Annie is getting more accustomed to the beagles when they run up to her (which they continue to do). She still bares her teeth, growls, and occasionally snaps at them, but she no longer salivates uncontrollably. We're making progress.
It turns out that I like these beagles (so far). Like everyone else in the family, I give the new puppies a lot of love and attention (when I'm not in my garden). I can see that beagles have a lot of good points. And I'm thankful this whole dog thing turned out the way it did. It could have turned out a lot worse... For example, Marlene could have decided that she wanted a couple of poodles, or chihuahuas.