Dried Beans
Last spring I bought a small packet of four different bean seeds from Seed Saver's Exchange and planted them in my garden. They are dried bean varieties and my intention is to replant the beans from this year's small harvest next spring. I hope to do this until I have enough seed to plant a small crop. Then I'll be able to harvest the crop and continue to provide my own seed, as well as seed to others. All of this can result from a single packet of seed.
My plan is to sell the dried beans but also to develop several dried bean and chili mixes using my homegrown stiffneck garlic powder as an ingredient. And I'd like to grow any other ingredients I can. I'm not much of a cook but I'm hoping to collaborate with a good cook (my wife) and learn a lot about bean soups this winter as we develop some mixes.
Treadle Bean Sorter
My county has a nice little agricultural museum. One of the items on display is a treadle (foot powered) bean sorter. Next time I'm there I'll take a picture to show you what an old bean sorter looks like. I'm hoping to purchase one but they are hard to find. I've never seen one on Ebay but I don't look all the time. I'm thinking of placing a WANTED add in the local newspaper. I suspect there are still-good bean sorters gathering dust in some old barns somewhere around here.
Finding A Broadax
My son James, the hopeful log hewer, bought himself an adz last summer. Then
David Taylor
very graciously sent him
two nice log dogs
. The one, most-necessary tool remaining to get is a broadax with an offset handle. We've been looking and not finding them. Brand new ones are quite expensive.
Well, James did finally find
two
broadaxes at a flea market a few weeks ago. He deliberated at length about which one to get and decided on the older hand-forged model (complete with handle). Then he talked the vendor down to $25.
I wasn't there but Marlene said the man selling the axes was amazed that James knew what the axes were for and, even more, that he intended to use one to actually hew logs. In the end, he threw in a couple of old leg traps for free.
I have sent off for a log-hewing book that Dave Taylor recommends (James's birthday is next month). Then I guess we'll have to find us some logs to hew.
Another Farm Gone
One of my small-scale dairy farming neighbors is throwing in the towel. The man is around 60 years old. He grew up on the farm and has been a good dairy man all his life. But small dairy farms operated in a conventional manner simply do not pay any more. It's sad to see any farm go out of business, but it's especially sad to see a neighbor who loves to farm have to give it up because of the economics.
Land
How much is land selling for around you? The dairy farmer I just mentioned is selling a 78 acre lot just around the corner from me. 400 foot of road frontage on a paved county road. An abandoned town road (dirt) borders one side (would make a fine driveway). Gentle southwestern slope. Good soil. 35 acres is hardwood forest (recently logged). The rest is field (hay and corn on it now). It's a nice piece of property. Asking Price: $89,000, So close, yet so far away.
Only a few years ago, decent farmland was selling around me for $500 an acre. Woodland was even less.
My Blogging "Infomercials"
The previous blog about my Whizbang Chicken Scalder was something akin to an infomercial. Maybe it could be called a
Blogomercial
. Whatever the case, I want to warn you that a few more such blog entries will be posted here very shortly. One will be all about my Whizbang Chicken Plucker, one will discuss the plucker parts I make and sell, and another will tell about "the next best thing to a Whizbang Plucker." Oh, and I'll probably post a blog about the how & why of making great garlic powder
I am posting such blogs here because it is an excellent way to tell people about the books I've written and the products I sell—not just for the few days it is posted but for a long time to come. Once posted, I can provide a link to people looking for the information. I can do this through various forms of marketing, including a future web site, e-mail information requests I get from people, and the test display ads I plan to put in a few select publications this winter.
So please bear with me and understand that I'm not going totally commercial here, though it may look like it for a few posts. I will return to the regularly scheduled blogging.
Amish Paradox
Would you think it strange if you saw a white limousine pull up and a plain-clothed, bearded Amish man with a straw hat got out? That's what my son told me happened at the lumberyard where he works. The Amish have moved into our area in recent years and when they need to get somewhere further or quicker than their horse & buggy will take them, they hire a local non-Amish driver. One of those driver's around here has a limo. I wish I had a picture of that to show you.
Farm Market Update
Next week will be the last farm market of the season for Marlene and James. After a slow start in the spring, they have had a great year at the market. Then I can take the extra gas stove out of our living room and store it in my shop until next year. Two ovens are very handy when you're making a LOT of homemade bread in one day.
Uncooked Sweet Corn
Today we had corn on the cob with our lunch. I sat next to Robert on the stoop as he shucked it. I decided to eat an uncooked cob. I'm sure I've done this before but I don't recall when. The corn was very sweet and good and it made me wonder.... Why do we cook sweet corn? Cooking destroys the enzymes that are so important for health. Most all vegetables are far, far better for us if eaten uncooked. I think I shall make it a habit to eat my sweet corn uncooked from now on, at least some of it.
Yes, I know, you can't butter an uncooked cob of corn. So I guess that's one drawback. Which brings me to a little tip I'd like to pass along. Homemade garlic powder, shaken onto hot, buttered, sweet corn is awesome—you
must
try it someday.
Mangle Beet Update
That mangle beet seed (from Heirloom Acres) that David Taylor sent me last spring is doing well. Here's a current photo.....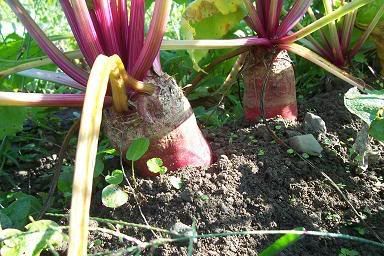 P.S. I have been listening to the Entrapreneurial Bootcamp CDs from Vision Forum Ministries and still intend to blog about them here in the future.